Presentation
Have you ever dreamt of doing competitive sailing?
Training, regattas, team spirit, taking risks, competing with other champions.
If the answer is yes then you should be part of the "Voile Habitable Entreprises".
"Voile Habitable Entreprises" is sailed on keelboats with a crew of 4 or 5 people (Beneteau First Class 7.5).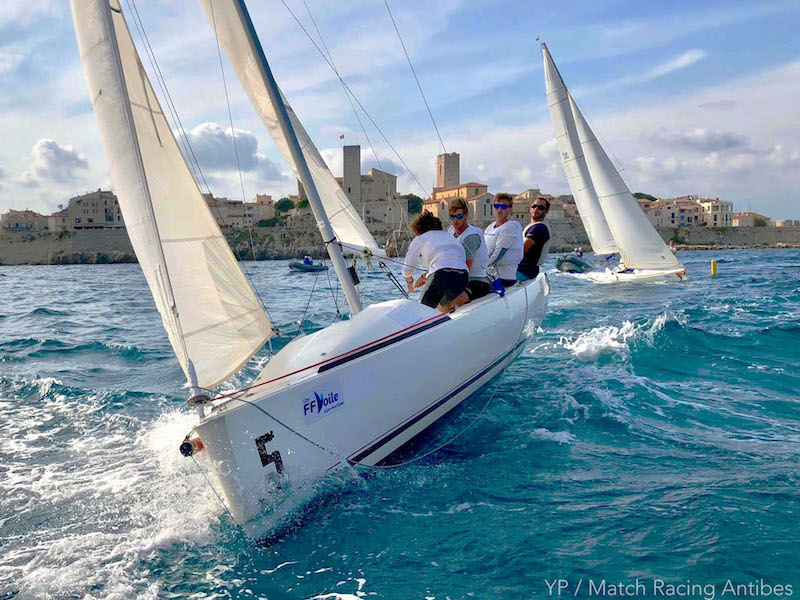 A keelboat is a rather spacious and stable boat when compared to a catamaran. This means there is a smaller chance of going in for a swim.
It can be sailed in all seasons in Antibes, even in Winter!
In order to prepare for the "Voile Habitable Entreprises" monthly trainings are organised. The objective is to compete in the National Corporate Championship "Championnat de France Voile Habitable Entreprises", which will take place in Mèze from 5 to 8 September 2019.
Trainings
The AAA Sailing section provides trainings with an expert trainer from the Comité Départemental de Voile.
A typical training day starts at 10am and ends at 5pm.
Sessions (alternative dates are planned in case of bad weather conditions):
Saturday 09 February
Saturday 09 March and Sunday 10 March (or 23 and 24 March)
Saturday 06 April and Sunday 07 April (or 20 and 21 April)
Saturday 04 May and Sunday 05 May (or 11 and 12 May)
Saturday 01 June and Sunday 02 June (or 08 and 09 June): Sélective Championnat de France Sport Entreprises Habitable (qualifier for the National Corporate Championship)
The week-end trainings are organized as follows:
Saturday: training
Sunday: racing
You don't need to attend all scheduled trainings and racings but do not forget … practice makes perfect!
See you on board soon!
Contact: Yoann Peronneau